When I was getting married I knew I didn't want the same wedding as everyone else. I knew i wanted my wedding to look and feel like, well… my wedding. (OUR wedding… I still have a hard time saying OUR wedding 😂)
Here are 5 "alternative" ceremony ideas that we've come up with along with SURPRISE! a tutorial for each! Woot Woot! These tutorials will be posted separately as their own blog post.
(I've got to pace myself people!) but if you are a client and need to see it, of course you'll be privy to it :)

01. Hoop Backdrop/Suspension
Something different than the Arch or Arbor. We went with a Hoop here but you can do any geometric shape you'd like. I hear hexagons are SO in right now.
The first pic is legit a hula hoop that we painted to cover the crazy emoji's that were on it then we taped/wired greenery to it and hung it from a tree using fishing wire.

 

Second is a steal hoop (you can create one using PVC pipe or rent one). It's a beautiful alternative to the standard arch and the symbolism is 👌
02. Pillars
Pillars - These can be either symmetrical or asymmetrical. Depending on how you execute this (if the pillars are stationary or mobile (meaning you made them or brought the structure) you can use them at the ceremony and move them to the reception!
One thing to note is depending on how you set these up, there is a chance they could be covered up by your bridal party. Our motto (or one of them anyway) is to put your money where people are going to see it. So if it's covered up, I'd reconsider this option. OR make your peeps stand just a tad further to the side.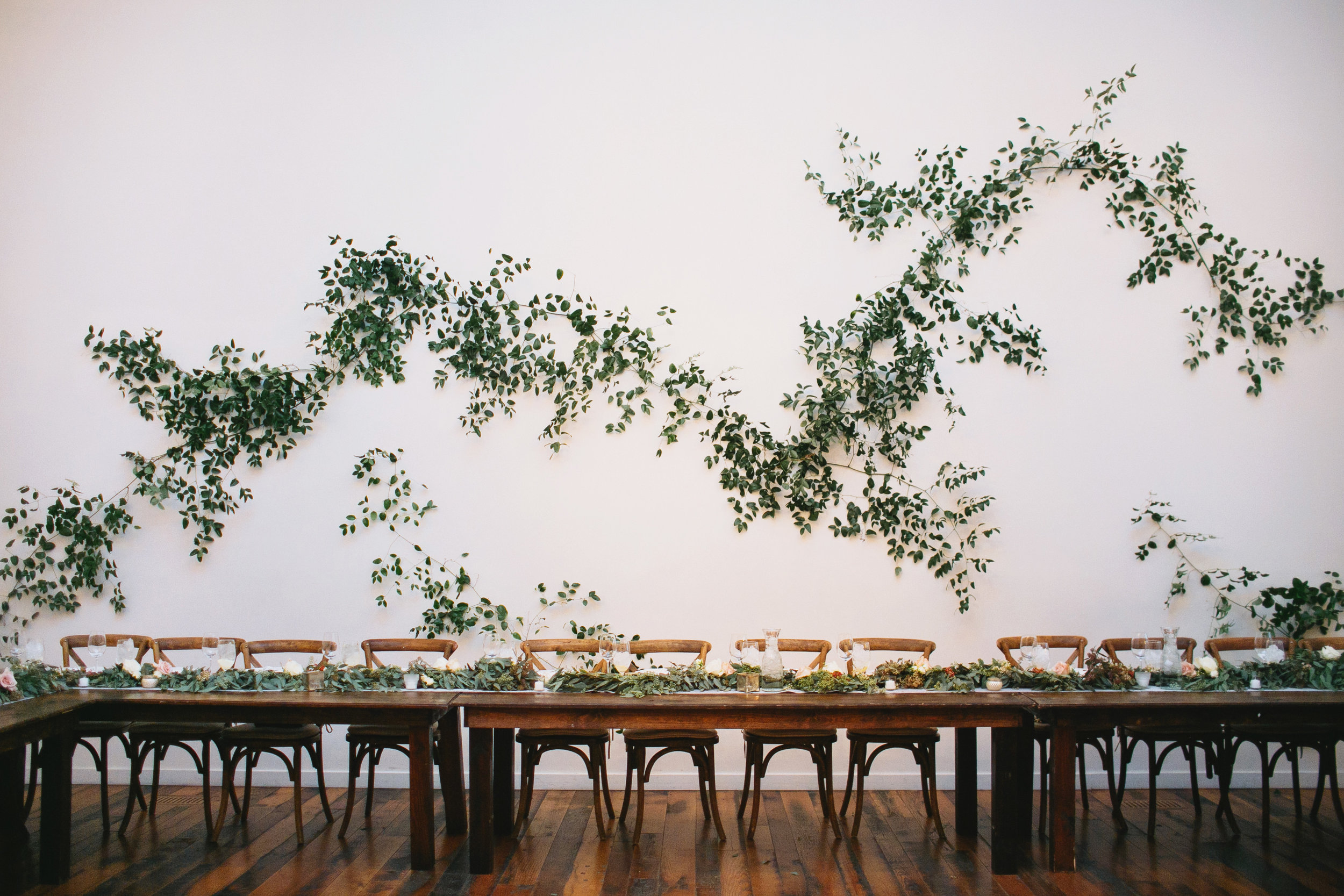 03. Suspended Greenery
Greenery suspended on wall (Magic people, magic) - this one is a bit more tricky because, you know, Gravity. But it can be done. This one looks easy but can take a while to make it look effortless. If you have the time and man power go for it as it can be a great affordable option!
04. Ground Alter
Ground Alter? Okay so I just made that term up but by looking at the inspo photos you get what I mean. Something on the ground that delineates where you stand and creates emphasis on the couple. I love this idea to create a very intimate ceremony. I say this may be ideal for a couple who's bridal party isn't standing up there with them.
05. Grid Backdrop
This is a great modern trend happening lately and we just so happened to create one and make a tutorial out of it! YAY! Like I said, this is a more modern approach but still feels romantic and wedding worthy. I loved that it was transparent so if you're getting married outdoors you can still see all the gorgeous scenery. This could also be moved to be behind the head/sweetheart table or a photo-booth backdrop.